mattress
Emma Original Mattress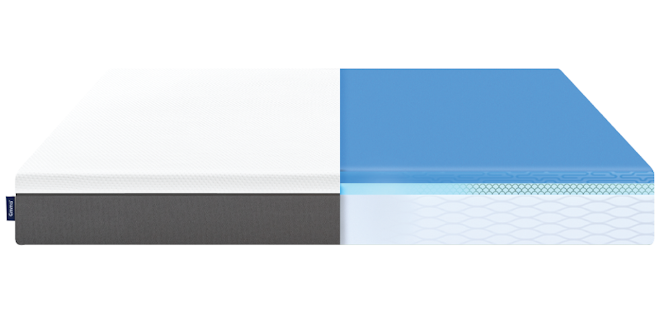 Essential Mattress Info
Brand
Emma (India)
Mattress Type
Memory foam
Prices
Other Sizes Available?
Video
Important Information
The most award winning mattress of Europe, now in India.
Certifications
OEKO-TEX®

Other Certification Info
Trial & Warranty
Trial Period
Trial Period (nights)
100
Warranty Length (years)
11
Firmness Options
One Firmness Fits All?
Adjustable Firmness
Half-Half Firmness
Selectable Firmness
Flippable / Reversible Firmness
Firmness Info
Emma mattress is neither soft nor hard, rated a medium-soft (6 on the firmness scale). The mattress adapts perfectly to every body type for best spinal alignment.
Mattress Construction
Materials Overview
With a thickness of 8 inches, this premium German-engineered memory foam mattress offers you the best comfort and support. 3 layers:
1.5" Airgocell® Foam
1.5" Visco-Elastic Memory Foam
5" High Resilience Foam.
Comfort Info
Breathable Airgocell® foam allows proper ventilation thanks to its open pores. In addition, a cover with climate control fibre provides for particularly fast moisture removal to ensure a completely pleasant sleeping climate.
Support Info
Conformable Next Generation Airgocell® foam adapts to any body shape thanks to its point elasticity. The advanced 3-layer zone profile improves pressure distribution of the body and supports adjustment, so you can sleep well in any position.
Combining different materials and structures means optimal pressure distribution can be achieved. This creates ideal conditions for the restful sleep your body needs to regenerate.
Comfort Specs
The Airgocell® foam provides you with ideal comfort thanks to exceptional point-elasticity that allows one area to compress without affecting the rest of the mattress, which means that your partner can move the whole night and you won't feel a thing. In addition, Emma's open-pored highly breathable material will not make you sweat and is perfect for humid weather like in India.
Support Specs
Pressure-reducing memory foam
Memory foam is the perfect middle layer: it distributes your weight in the best possible way. Whatever your sleeping position, memory foam ensures the perfect fit. Emma therefore feels extra comfortable.
Base Foam with Adaptive Technology
The high resilience foam stays perfect throughout the night and the years.
Fabric Specs
Breathable cover
The top cover consists of special climate fibre that regulates humidity. At the same time, it is so elastic that it fits the core of your mattress, perfectly. The top cover is completely removable and washable, made out of 100% organic cotton.
Manufactured in
India
Suitability
Side Sleepers
Back Sleepers
Size & Weight
Single
Single Dimensions
72 x 36 x 8 "
Single Weight (kg)
17
Double
Double Dimensions
72 x 48 x 8 "
Double Weight (kg)
22
Queen
Queen Dimensions
72 x 60 x 8 "
Queen Weight (kg)
27
King
King Dimensions
72 x 72 x 8 "
King Weight (kg)
33
Bedtime Reading
Interesting Blog Articles
Delivery
Delivery Cost
FREE
Delivery Info
Your Emma mattress is rolled, vacuum-packed and then shipped directly from our factory to your doorstep. All Emma mattresses are brand-new, and awaiting to be delivered to you. We ship with DHL. The Emma Mattress is delivered to you in a box of 42x42x110cm.
Prices