mattress
Sunday Latex Plus 4 Mattress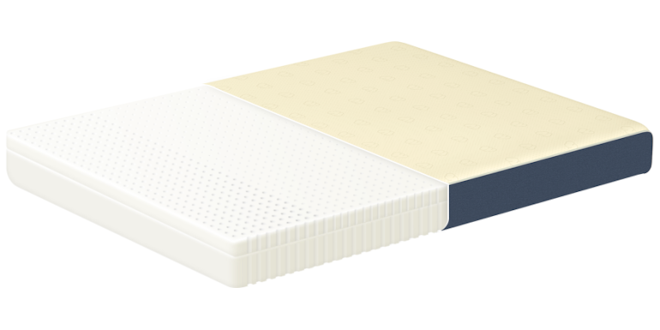 Essential Mattress Info
Brand
Sunday
Mattress Type
Latex
Prices
Other Sizes Available?
Video
Important Information
Certifications
OEKO-TEX®

Other Certification Info
Euro Latex Certification
LGA Certified Latex Foam
GOLS Certified top fabric
Trial & Warranty
Trial Period
Trial Period (nights)
100
Warranty Length (years)
10
Firmness Options
One Firmness Fits All?
Adjustable Firmness
Half-Half Firmness
Selectable Firmness
Flippable / Reversible Firmness
Firmness Info
Firmness: 5 out of 10. Customers say the Latex Plus mattress is like sleeping on a soft-but-firm cloud. A 5 star hotel quality mattress at a shockingly fair price. Good balance of firmness, support, and comfort.
Mattress Construction
Materials Overview
Designed by experts, the Latex Plus 4 mattress is entirely made of 8 inches of latex, imported from Belgium, combining two latex layers:
2" Latex (65 D)
6" Latex (70 D).
Comfort Info
Sunday's three zone latex foam was designed for people who value their sleep and don't mind paying a bit more for supreme comfort. Made with the finest quality latex imported from Belgium, it's no wonder many entrepreneurs in India seem to love our Latex Plus mattress for some reason. Film stars, politicians and other successful people too.
The Latex Plus mattress is designed to isolate movements. So you don't feel when your partner moves and you don't wake up.
Support Info
The 3 zone latex foam that we use ensures that you get excellent back support.
(Latex foam is one of the most expensive raw materials that can be used in mattresses. It is 2 times more expensive than memory foam and 4 times more expensive than PU foam.)
Comfort Specs
Latex is the coolest foam around! With 8 inches of latex in our mattress, you can be assured of the best comfort in all climates. We tested our mattress during the summer of 2015 in Bengaluru and in Hyderabad to make sure that there is no issue with hot summers as is typical with spring, PU foam and memory foam mattresses. A top open-cell layer made of 2 inches of latex to help you sleep cooler and comfortable (even during summer nights).
Support Specs
A layer of 6 inches of 70D Latex foam at the bottom designed to support and align your spine. The top layer of 2 inches of 65D Latex foam is zoned which provides a softer foam under your shoulders (to help you sleep in greater comfort) and firmer foam under your hips - exactly where you need the support to keep your spine aligned, naturally.
Fabric Specs
Built with supreme comfort and purity in mind. We use 100% organic cotton because it's the purest form of cotton. Which means no nasty chemicals making their way into your bed and that's great news for those with asthma or allergies.
Manufactured in
India
Suitability
Side Sleepers
Back Sleepers
Size & Weight
Single
Single Dimensions
72 x 36 x 8 "
Single Weight (kg)
23
Double
Double Dimensions
72 x 48 x 8 "
Double Weight (kg)
31
Queen
Queen Dimensions
72 x 60 x 8 "
Queen Weight (kg)
39
King
King Dimensions
72 x 72 x 8 "
King Weight (kg)
47
Bedtime Reading
Interesting Blog Articles
Delivery
Delivery Cost
FREE
Delivery Info
We aim to deliver all the mattresses and accessories through our own transportation channels. For this reason, we operate in limited number of cities and looking to expand to more cities in the future. All mattresses are delivered on the same or next business day in Bangalore. Deliveries outside Bangalore take longer.
Prices