mattress
Sunday Memory Plus 4 Mattress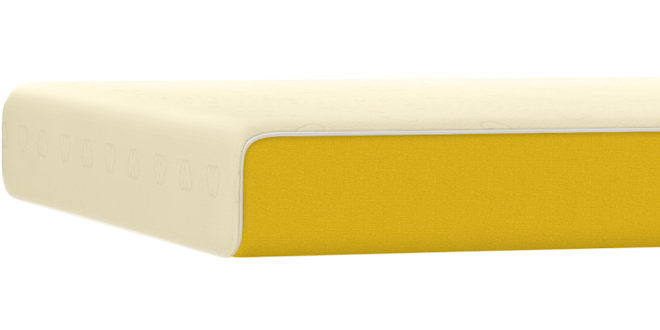 Essential Mattress Info
Brand
Sunday
Mattress Type
Memory foam
Prices
Other Sizes Available?
Video
Important Information
Some sizes available with an 8" option (prices based on the 6" model).
Certifications
OEKO-TEX®

Other Certification Info
GOLS Certified top fabric
Trial & Warranty
Trial Period
Trial Period (nights)
100
Warranty Length (years)
10
Firmness Options
One Firmness Fits All?
Adjustable Firmness
Half-Half Firmness
Selectable Firmness
Flippable / Reversible Firmness
Firmness Info
Firmness: 7 out of 10. The Memory Plus model is the firmest of all 3 Sunday mattresses. It's the most budget-friendly, but engineered with the typical Sunday quality. Good for every type of sleeper but perfect for chronic back pain sufferers.
Mattress Construction
Materials Overview
The Sunday Memory Plus 4 mattress is a tastefully crafted 6 inch memory foam mattress at a budget price, combining two foam layers:
1" Memory Foam (65 D)
5" High Resilience Support Foam (32 D).
Comfort Info
Offers superior comfort for people with back, neck or joint problems.
Zero partner disturbance. Is your partner ruining your sleep? The Memory Plus mattress is designed to isolate movements. So you don't feel when your partner moves - and you don't wake up.
Support Info
The perfect combination of comfort and therapeutic support. Realigns your spine so you can sleep and handle stress better throughout the week.
Comfort Specs
High Resiliency (HR) foam is designed to help your body feel like it's resting more naturally. A second layer on the top, made of 1 inch of memory foam for supreme comfort. (Fun fact: Memory foam was invented by NASA-funded researchers looking for ways to keep test pilots cushioned during flights.)
Support Specs
With a great combination of memory foam and HR foam our Memory Plus mattress is designed to give you perfect combination of sink and support.
Fabric Specs
100% organic cotton top cover. Which means an allergy and asthma free mattress.
Manufactured in
India
Suitability
Side Sleepers
Back Sleepers
Size & Weight
Single
Single Dimensions
72 x 36 x 6 "
Single Weight (kg)
10
Double
Double Dimensions
72 x 48 x 6 "
Double Weight (kg)
13
Queen
Queen Dimensions
72 x 60 x 6 "
Queen Weight (kg)
16
King
King Dimensions
72 x 72 x 6 "
King Weight (kg)
20
Bedtime Reading
Interesting Blog Articles
Delivery
Delivery Cost
FREE
Delivery Info
We aim to deliver all the mattresses and accessories through our own transportation channels. For this reason, we operate in limited number of cities and looking to expand to more cities in the future. All mattresses are delivered on the same or next business day in Bangalore. Deliveries outside Bangalore take longer.
Prices