mattress
NapCloud ZipNap Plus Mattress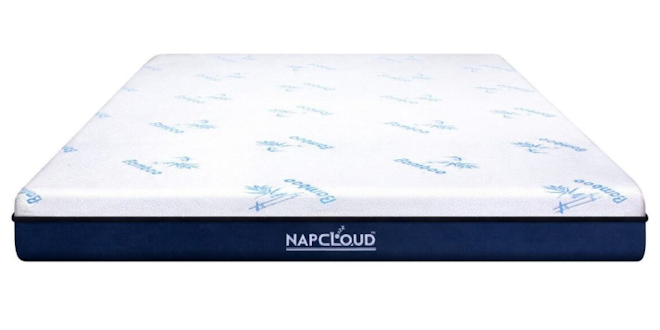 Essential Mattress Info
Brand
NapCloud
Mattress Type
Memory foam
Prices
Other Sizes Available?
Video
Important Information
Certifications
Other Certification Info
Trial & Warranty
Trial Period
Trial Period (nights)
100
Warranty Length (years)
10
Firmness Options
One Firmness Fits All?
Adjustable Firmness
Half-Half Firmness
Selectable Firmness
Flippable / Reversible Firmness
Firmness Info
ZipNap Plus is considered a (medium-soft) 4/10 on the firmness scale (with 1 being soft and 10 being firm).
Mattress Construction
Materials Overview
The ZipNap+ mattress is a 2 layer construction:
2" Cool Gel Memory Foam
6" Premium High Resilience Foam.
The differentiating feature from the ZipNap is the luxurious 8" height (an extra 1" of both layers).
Comfort Info
Zero Motion Transfer
The mattress gently holds you as you sleep, cushioning your body and reacting to your movements throughout the night. This provides unparalleled comfort and support, with virtually zero motion transfer from your partner.
Support Info
A NapCloud mattress is not just about comfort, it's about enjoying sleeping again irrespective of how your day went or whether your back aches. It's about sinking into the sheer blissful comfort of knowing that you'll be sleeping soundly in no time at all! It's about bringing back good and healthy sleep into your life, something that you should never have to compromise on.
Comfort Specs
The cool gel memory foam comfort layer combines with the all-natural bamboo fibres in the cover to keep your mattress feeling cool throughout the night.
Support Specs
A layer of total comfort that adjusts to your body's every need, the Cool Gel Memory Foam of NapCloud's mattresses gives you unparalleled bodily support, while providing a pleasant cooling sensation as well. The High Resilience foam provides the solid support base your body needs for a great night's sleep.
Fabric Specs
Organic Bamboo Cloth Washable Zipper Cover. Thanks to the all-natural bamboo fibres that make up the ZipNap+, the mattress is able to retain the maximum amount of coolness and provide it to your body in a refreshing fashion. Now Summer will no longer be a worry, with the cooling sensation of the ZipNap+'s cloth to keep the heat at bay!
Manufactured in
India
Suitability
Side Sleepers
Back Sleepers
Size & Weight
Single
Single Dimensions
72 x 36 x 8 "
Single Weight (kg)
14
Double
Double Dimensions
72 x 48 x 8 "
Double Weight (kg)
19
Queen
Queen Dimensions
72 x 60 x 8 "
Queen Weight (kg)
24
King
King Dimensions
72 x 72 x 8 "
King Weight (kg)
29
Bedtime Reading
Interesting Blog Articles
Delivery
Delivery Cost
FREE
Delivery Info
Free delivery for mattresses across India. Delivery in 2 days in Mumbai, Bengaluru, Hyderabad and Kolkata!
Prices